JEC (Jordan Elevator Company) proudly presents the Yaskawa VVVF Control Panel, an advanced and feature-rich solution that revolutionizes elevator performance. Manufactured by Yaskawa, a renowned leader in the industry, this control panel offers unparalleled reliability, efficiency, and comfort for elevators in buildings of various sizes and configurations. Here is a comprehensive breakdown of the key features and benefits of the Yaskawa VVVF Control Panel: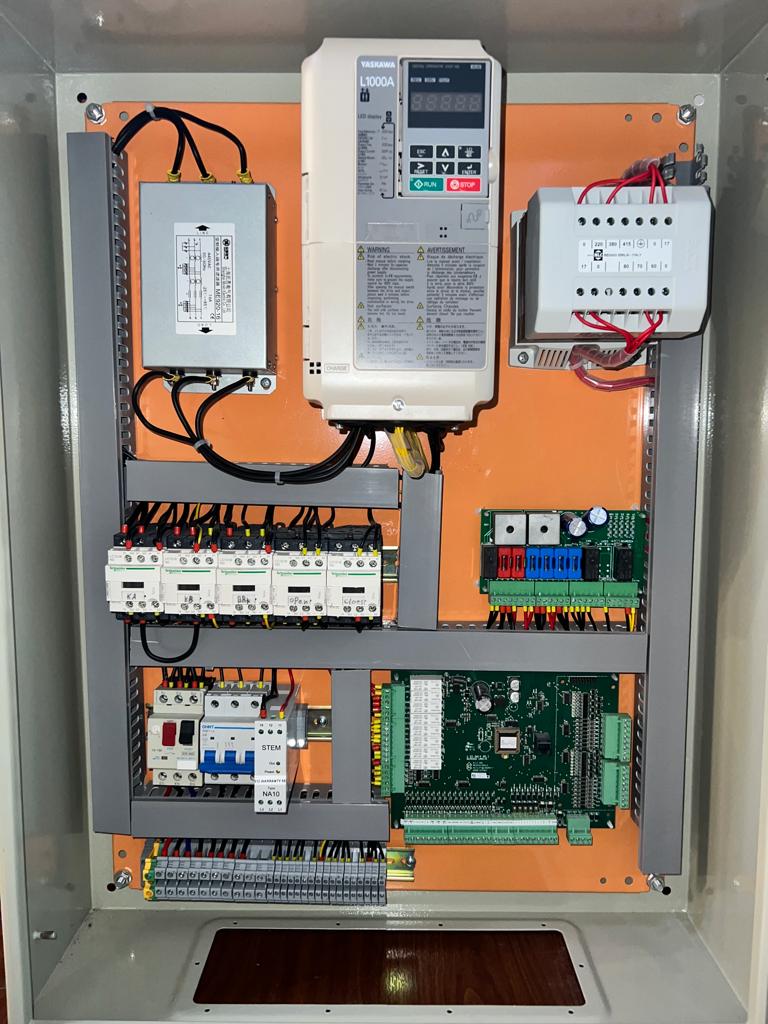 Motor Control Excellence:

The VVVF Control Panel provides single drive capability for either Induction Motor (IM) or Permanent Magnet (PM) motor control.
With auto-tuning routines, it optimally matches the Yaskawa L1000A drive to both coupled or uncoupled IM/PM motors, ensuring efficient and precise motor control.

Enhanced Power and Performance:

The VVVF Control Panel boasts peak current ratings of 200% or more, based on NEC amps, enabling superior motor performance and responsiveness.
Its cutting-edge technology delivers exceptional torque ripple suppression, resulting in a smooth and quiet motor operation, enhancing passenger comfort.

Elevator-Specific Features:

Designed with elevator-specific features, the control panel reduces floor-to-floor times, improving overall elevator efficiency and ride quality.
The control panel's powerful keypad and I/O interface simplify the integration with elevator controllers, ensuring seamless and reliable operation.

Uncompromising Safety and Reliability:

The Yaskawa VVVF Control Panel is engineered with safety as a top priority, complying with TÜV functional safety standards.
It features full safety controls, providing comprehensive protection to the lift structure and passengers during operation, ensuring peace of mind and worry-free elevator journeys.

Maintenance-Free Operation:

Yaskawa's commitment to quality is evident in the VVVF Control Panel's design, which guarantees over 70,000 hours of maintenance-free operation.
The control panel's lifetime monitors and removable terminals, with parameter backup, facilitate easy serviceability and maintainability, minimizing downtime.

Flexibility and Adaptability:

The VVVF Control Panel offers rescue operation control flexibility, allowing for seamless handling of emergency situations with ease and efficiency.
It supports both open-loop and closed-loop systems, making it compatible with a wide range of elevator configurations.
With the Yaskawa VVVF Control Panel, you can expect unrivaled performance, reliability, and comfort in your elevator system. JEC, as a trusted provider, ensures seamless installation and integration, backed by our expertise and exceptional customer service. Elevate your building's vertical transportation experience with the cutting-edge technology of Yaskawa's VVVF Control Panel.
Note: The Yaskawa VVVF Control Panel is compatible with elevators operating up to 13 floors on full collective and up to 16 floors on down collective. It offers full safety controls, speed regulation, lift door control, arrival gong activation, compatibility with all loads, fire emergency add-ons, VIP controls, and more.
For more detailed information, technical specifications, and to discuss your specific elevator requirements, please contact our team at JEC. We are dedicated to providing innovative solutions and ensuring customer satisfaction with every project.