Vacuum Elevators
Discover the advantages of Pneumatic Elevators by Jordan Elevator Company (JEC) – an innovative vacuum elevator solution that seamlessly combines air suction and gravity for smooth vertical movement. With no pre-construction shaft or machine room required, these eco-friendly elevators offer flexible, space-saving installations in just 2-3 days. Powered by a 220 volt supply and utilizing minimal moving parts, enjoy hassle-free maintenance and operation without harmful oils or gases. Custom-built for up to 5 stops or 50 feet, explore the perfect fit for your home's spatial and installation needs.
By using Pneumatic Technology® to generate areas
of higher and lower pressure within the cylinder
hoistway, Pneumatic Elevators combine a vertical
cylinder with a fully enclosed car that smoothly
moves up and down through air suction and gravity.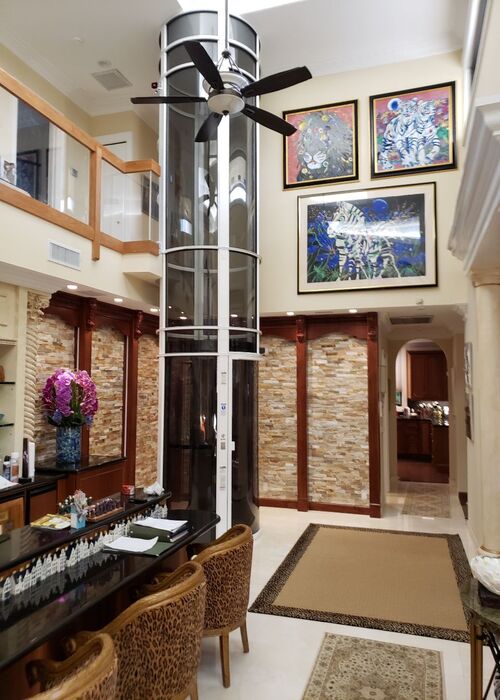 What advantages do Pneumatic Elevators offer?
Not requiring a pre-construction shaft, pit or machine
room, Pneumatic Elevators simply rest on the existing
ground floor, offering more flexibility of installation
while optimizing space within the home.
With minimal pre-construction requirements,
Pneumatic Elevators are quick & easy to install with
installations being completed in as little as 2 – 3 days.
A plug & play system requiring a 220 volt power
supply, these eco-friendly elevators utilize very few
moving parts during operation and have minimal
maintenance requirements with no harmful oils,
gases or lubricants utilized for operation.
Certified for up to 5 stops or 50 feet in total rise,
Pneumatic Elevators are custom built to the
height of each home with three different sizes
available to meet your projects spatial and
installation requirements.
Components:
Exterior Cylinder – Made up of an aluminum frame and
polycarbonate panels that offers panoramic visibility.
Elevator Car – Fully welded and enclosed cabin made of
steel, which houses the brake and safety mechanisms
along with the proprietary seal located on top of the car.
PVE Machinery – Installed on top of the upper floor
cylinder or remotely located. Houses the turbine motors,
valves and PVE controller used to operate the elevator.